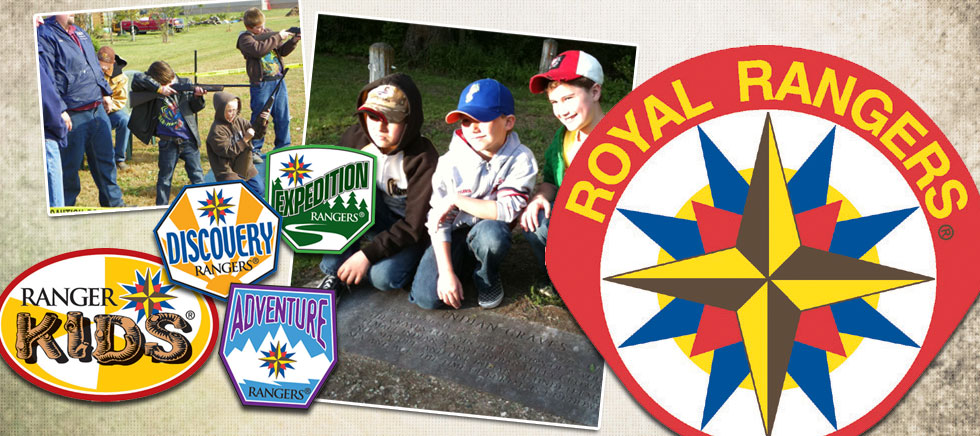 Royal Rangers — Wednesday Night at 7:00


The Royal Rangers program is an activity-based, small group church ministry for boys and young men in grades K-12. Our mission is to evangelize, equip and empower the next generation of Christlike men and lifelong servant leaders. We provide Christlike character formation and servant leadership development for boys and young men in a highly relational and fun environment. Boys learn to study and apply what the Bible says about integrity, doctrine, biblical worldview, cultural issues and manhood. In addition, the Royal Rangers ministry molds boys into servant leaders, teaching them vital social, equipping, attitude, leadership and service skills.

Rainbows (Preschool) Noah's Ark provides an exciting theme for the Bible stories, crafts, activity pages, and games for this preschool club.

Ranger Kids (K-2nd) is designed to offer every boy adventure and fun. The individual steps that the Ranger Kid must take to earn each award are directed to help him grow physically, spiritually, mentally, and socially.

Discovery Rangers (3rd-5th) gives a boy many chances to do new things. He will learn new skills such as giving first aid, working with tools, fine arts, camping, building a fire, and sports activities, all while learning about God and His Word.

Adventure Rangers (6th-8th) helps to build a young mans character, increase his determination to achieve, and improve his ability to set goals and fulfill them. The Adventure Rangers Advancement Trail offers skill merits ranging from technology, sports, hobbies, woodcrafts, knife and Hawk throwing in addition to leadership and Bible merits.

Expedition Rangers (9th-12th) helps young men to develop into men who have the skills to make good sound decisions, have strong moral character, exemplify leadership skills, and be grounded in the Word of God.